You know you have one of the important missions in the world.
Let's make sure everyone else knows it, too.
The contributions of mission-driven organizations to communities and individuals are vital to public well-being. In pursuing higher aims, non-profits must reach farther and more effectively than ever. Audiences must be engaged to create the on-going relationships that ensure mission success.
We've helped many organizations make their case to supporters – these include charities, land trusts, economic development associations and community foundations. Our non-profit clients have been able to accomplish great things, and we're proud to be a part of that.
Helping others is a value we share with the non-profit world. We'd love to assist your organization in achieving its goals with communications tools that make your case to the right people in the right way.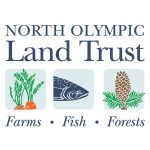 Logo Design: North Olympic Land Trust
The North Olympic Land Trust is a regional non-profit dedicated to conserving the habitat and natural beauty of the Olympic Peninsula since 1990. In 2012 NOLT became one of only 158 accredited land trusts in the nation, which precipitated a comprehensive strategic planning process. NOLT came to LBD to rebrand the organization using its new name and tag line, "Farms, Fish, Forests." A small group of board members worked through an iterative process with LBD to develop a new identity that will be applied on all communications throughout NOLT over time.
Executive Director Tom Sanford had this to say about the Land Trust's new identity:
"After moving through a very thorough strategic planning process, we felt it was time to update our visual identity to match our enhanced mission of supporting community conservation of our local farms, fish and forests. Working with Laurel Black Design has been a great experience and fits with our goal to support local businesses. We are very pleased with the results."